Welcome to Murano Glass Sculptures
We are delighted to offer you a stunning collection of authentic Murano glass art from the world-famous Venetian island of Murano, hand-crafted using a variety of designs and techniques passed down from one generation of master craftsmen to the next, and all inspired by the beauty of the Venice lagoon.

If you are looking for beautiful ornamental vases and bowls, gorgeous coloured glass home accessories and elegant wine glasses, or decorative abstract sculptures and figurines; collectable glass animals including a stunning range of birds and fish, gifts for special occasions such as weddings, anniversaries and birthdays, or even magnificent sporting prizes and trophies, you have come to the right place.
All our products are hand-made. From time to time, blisters may appear in the glass because of the blowing process. These blisters are not considered to be defects, but guarantee that your sculpture is a unique and original object.
Having been immersed in the world of Venetian glass art for so many years, we are delighted to offer you a beautiful and diverse collection of over 500 glass art sculptures, from vases and figurines to collectible glass animals and everyday tableware.

You won't find any of these products on the high street. We are proud to have sourced our ranges through years of hard work, and by developing excellent working relationships with all our suppliers.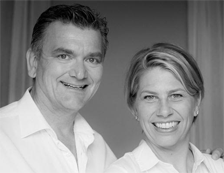 Karen & Carl Mallory
Murano Glass Experts